Announcement from the Dept. of Construction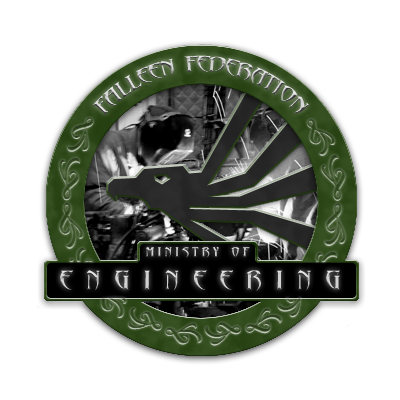 Year 10 Day 137 - A dark room begins to illuminate revealing a podium. The anchorman waits some seconds before he starts to speak to the camera:
"Dear citizens of the Falleen Federation I am really glad, that I can introduce you the Command of the Department of Construction (DoC). They come to us with really good news today. Ladies and Gentleman, please welcome them. "
Deputy Minister Simon Eusnomis followed by his Secretary of Construction, Maudret Rex and Deputy Secretary of Construction, Kojotes Jano enter the room, going straight to the podium.
"My fellow members of the Falleen Federation, we come to you this evening with a good message. The Ministry of Engineering has finished one of its bigger projects from the past. Therefore, I will give the word to the people who accompanied it, Kojotes Jano and Maudret Rex ."
Simon Eusnomis steps back from the microphone and beckons the two over. Maudret Rex nods towards Kojotes Jano, who steps on the podium.
"Today is a great day for all beings in the Falleen Federation. The Department of Construction is proud, that we can announce the completion of the Tax Planet Building number 4 including two planets within Falleen territory. Both planets are finished now and we can proudly present the outcome of this. With having provided both planets with infrastructure, flats and jobs, the population of the galaxy found a new home. At this day we now have attracted over 491 billion people to live there. Also the tax amount raised by the Falleen Federation due to their economic activity has grown to nearly 2 billion and growing. These planets do not have to hide behind Coruscant now."
Kojotes takes a short break and sips his water.
"At this day of days we want to thank all the people that made this possible. You have all done, and are still doing a great job! Some people deserve to be mentioned.
I want to start with the Falleen Resource Contracts. You worked really hard and never failed to find mines and transport the raw materials this Moloch needed. Thank you!
Second thanks goes to the NPC Retrieval Section. Your efforts helped to ensure builders were always on location, so that construction could continue without a hiccup. Thank you!
We also want to thank the people who guided our build force - The constructors of the DoC! We also want to thank all those involved, but not here today-the contract builders and haulers and those from other Departments, that helped us, when we needed additional personnel.
Special thanks goes to Ono Stardust and Naso Havendak who can't be here today. They are both responsible for a lot of help in the front office and the back office of this project.
And as special point today we have some announcements to do. Mr. Rex your turn."
Kojotes Jano steps back from the podium, making room for Maudret Rex.
"Greetings gentlebeings,
I am glad that I can be here with you today. It took us nearly a year, but finally we have done it. Some people were involved from the beginning, some joined us later and some resigned before the job was done and all of them have their share in the result. You have done a great job.
It is a pleasure, to honour two members of the DoC today. They both distinguished themselves with their excellent work and never hesitated to fulfill our needs. Lieutenant Ruru Emily and Lieutenant Adam Lyons please step forward.
Due to to your service in this project and your efforts to the Falleen Federation I hereby promote you to the Rank of Lieutenant Commander. Congratulations, you both deserve it. "
Maudret Rex steps back from the podium and attaches the new insignias to their dress uniforms, shakes their hands and salutes to them.
"Now it is time to celebrate this day! Thank you all for your attention. "
Maudret Rex steps back from the podium, joining the others, while the anchorman returns to the screen.
"We thank you all for your time this evening and until next time may Kiyorath Dhin be with you all."