News
Lord Tigris Ninx Returns to the Federation as Viceroy
Year 12 Day 305
Citizens of the Federation,
It has been some time since I last addressed you and it is that very delay that I come before you today to discuss.
My duty to the Federation and to you, its citizens, is paramount and above all others, but it is not my only duty. In recent times I have become increasingly busy with other matters and as a result have not been able to perform all my duties as King to the level I expect of myself. As a result, in consultation with Regent Lord Farlander and Prime Minister Lord Kartan, effective immediately, I am appointing Lord Tigris Ninx as my Viceroy.
Lord Tigris Ninx, who most of you should be familiar with, has in the past held every position in our government, including that of Prime Minister and Regent of the Crown. His service to the Federation is as long as my own and his dedication to our way of life, our ideals, principles and our laws is indisputable, as evidenced by the fact they he is the author of the Federation's Charter of Confederation and Criminal Code. It is for all these reasons, and more, that I have complete confidence in vesting all of my powers as Sovereign in the person of Lord Ninx.

As a Falleen of pure blood, Nathran of the Royal Mindano Clan, and in my own right I am the Sovereign of the Falleen Federation, the Head of State, the Supreme Commander of the Federation's armed forces and Chief Justice within Federation territory. As my appointed Viceroy Lord Ninx will exercise the powers of Supreme Commander and Chief Justice. While I will remain involved with the running of my government it will be Lord Ninx who will oversee the planning and execution of government internal and external policy; when he speaks, his voice will carry my authority. I also vest in Lord Ninx my powers as Commander of the Order of the Noblest Rukhar, empowering him to make new Knights and elevate Knights to Peers of the Order. These powers I vest in Lord Ninx with no limit save my pleasure and my continued service as Sovereign.

Lord Farlander remains the Regent of the Crown and the Heir to the Throne. Lord Kartan remains the Prime Minister and Head of Government. Together with Lord Ninx and myself they continue to serve on the Federation Executive, the senior most leadership council, responsible for the ultimate administration of our great government.

~ King Bisz Aldaris S.L. C.R. M.F. King of Falleen
Announcement from the Dept. of Construction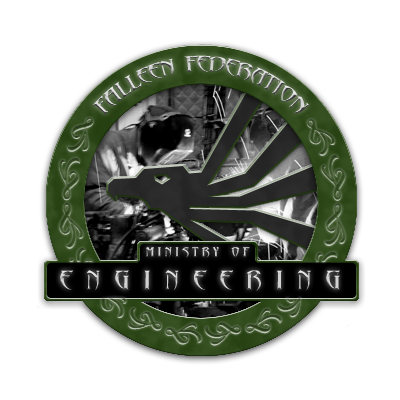 Year 10 Day 137 - A dark room begins to illuminate revealing a podium. The anchorman waits some seconds before he starts to speak to the camera:
"Dear citizens of the Falleen Federation I am really glad, that I can introduce you the Command of the Department of Construction (DoC). They come to us with really good news today. Ladies and Gentleman, please welcome them. "
Deputy Minister Simon Eusnomis followed by his Secretary of Construction, Maudret Rex and Deputy Secretary of Construction, Kojotes Jano enter the room, going straight to the podium.
"My fellow members of the Falleen Federation, we come to you this evening with a good message. The Ministry of Engineering has finished one of its bigger projects from the past. Therefore, I will give the word to the people who accompanied it, Kojotes Jano and Maudret Rex ."
Simon Eusnomis steps back from the microphone and beckons the two over. Maudret Rex nods towards Kojotes Jano, who steps on the podium.
"Today is a great day for all beings in the Falleen Federation. The Department of Construction is proud, that we can announce the completion of the Tax Planet Building number 4 including two planets within Falleen territory. Both planets are finished now and we can proudly present the outcome of this. With having provided both planets with infrastructure, flats and jobs, the population of the galaxy found a new home. At this day we now have attracted over 491 billion people to live there. Also the tax amount raised by the Falleen Federation due to their economic activity has grown to nearly 2 billion and growing. These planets do not have to hide behind Coruscant now."
Kojotes takes a short break and sips his water.
"At this day of days we want to thank all the people that made this possible. You have all done, and are still doing a great job! Some people deserve to be mentioned.
I want to start with the Falleen Resource Contracts. You worked really hard and never failed to find mines and transport the raw materials this Moloch needed. Thank you!
Second thanks goes to the NPC Retrieval Section. Your efforts helped to ensure builders were always on location, so that construction could continue without a hiccup. Thank you!
We also want to thank the people who guided our build force - The constructors of the DoC! We also want to thank all those involved, but not here today-the contract builders and haulers and those from other Departments, that helped us, when we needed additional personnel.
Special thanks goes to Ono Stardust and Naso Havendak who can't be here today. They are both responsible for a lot of help in the front office and the back office of this project.
And as special point today we have some announcements to do. Mr. Rex your turn."
Kojotes Jano steps back from the podium, making room for Maudret Rex.
"Greetings gentlebeings,
I am glad that I can be here with you today. It took us nearly a year, but finally we have done it. Some people were involved from the beginning, some joined us later and some resigned before the job was done and all of them have their share in the result. You have done a great job.
It is a pleasure, to honour two members of the DoC today. They both distinguished themselves with their excellent work and never hesitated to fulfill our needs. Lieutenant Ruru Emily and Lieutenant Adam Lyons please step forward.
Due to to your service in this project and your efforts to the Falleen Federation I hereby promote you to the Rank of Lieutenant Commander. Congratulations, you both deserve it. "
Maudret Rex steps back from the podium and attaches the new insignias to their dress uniforms, shakes their hands and salutes to them.
"Now it is time to celebrate this day! Thank you all for your attention. "
Maudret Rex steps back from the podium, joining the others, while the anchorman returns to the screen.
"We thank you all for your time this evening and until next time may Kiyorath Dhin be with you all."
Galactic Alliance Offers Safe Haven; Denounces Imperial Aggression
Op-Ed Columnist
By Tigris Ninx
Published Year 10 Day 73
The iron fist of Imperial oppression has touched the Corporate Sector.
It is a sad day for freedom, but the Galactic Alliance remains hopeful for the return of independence and sovereignty to that corner of the galaxy. The Galactic Alliance will do all it can to comfort and aid those who know there can be no bright future for the Corporate Sector under Imperial law. Even now, Mon Calamari cruisers are racing to staging areas and rebel freighters are landing to smuggle Corporate citizens to safety.
We seek to help because the people of the Galactic Alliance governments were themselves once threatened by this same malignant force that killed the Republic. We will never forget those terrible periods. We do not wish the same for the peoples of the Corporate Sector and so we offer safe haven, respect, and equal opportunity until they can reconstitute an independent Corporate Sector Authority.
I have written to the GNS before warning that "[t]he Imperial mind, warped by the dark side, will eventually come to believe that subjugation of the galaxy's peoples … outweighs the usefulness of bothersome alliances and pacts. It will turn on its allies. It will fail and then fall."
This self-defeating ideology will violently consume its affiliations and Union.
The Galactic Alliance regards the Empire as neither legitimate nor permanent. The Imperial movement is an outlaw in the community of galactic governments.
The Imperial Union should now be on notice. The Empire with which you so brazenly cooperate has again shown its true colors, using deceit and murder to achieve twisted goals. It has no regard for self-determination. Where we seek co-existence among each other, the Empire seeks domination. The Empire is antithetical to a free galaxy that yearns for peace, commerce, and honest friendship.
(GE: Smelly Lizards; FF: Not Easy Being Green)
Falleen Federation and Tresario Star Kingdom Press Release
FOR IMMEDIATE RELEASE:

The great Confederation of Falleen Noble Clans and the good peoples of the Tresario Star Kingdom, drawing inspiration from their common struggles and aspirations, have today come to an agreement that will allow their concerns to be met and their goals to be achieved. Convinced that, while remaining proud of their own identities and history, the peoples of both governments are determined to transcend their divisions and forge a common destiny by sharing from a common pool of experience and resources within Falleen's protective dominion.

Without disruption, and after much deliberation and introspection, the Kingdom accepted a new leader and embraced the start of their bright future. In a carefully coordinated political act, Tresario's King Falnor Urthadar named Lord Landion Domic to the post of Sovereign Governor and leader of the government, while at the same time Falleen's King Bisz Aldaris issued a royal writ naming Lord Domic as the Federation's Viceroy to the Kingdom.

Lord Domic is a life-long citizen of the Falleen Federation and has served in numerous government capacities, including most recently the high office of Prime Minister. He is one the most well known and well respected leaders in the Federation; his acumen and depth of knowledge are singular prizes that should be valued by any lucky enough to serve with him.

The agreement calls for the provision of leadership knowledge and experience to the Kingdom. The Federation's highest level of support will also be directed toward projects necessary to build national strength and stability. Already, a constitution providing not only for responsible governance, but also universal citizen rights similar to those guaranteed to Falleen, has been proposed and is being drafted. Parties to the arrangement envision a time when the governments continue to act in independence, but are the best of friends sharing mutual aid in common causes.

King Bisz Aldaris issued the following statement from Vavel Castle on Falleen: "The Falleen Federation is committed to the principles of Freedom, Equality, Justice and Honour. These principles have guided the Falleen people for generations and are the cornerstones of our Federation. The special relationship that we have entered in with the Tresario Star Kingdom is only possible because both governments cherish those basic but fundamental principles. I respect greatly the vision and confidence that the Tresario leadership, specifically King Falnor Urthadar, and the entire body of Tresario citizens have demonstrated by freely electing to enter into this relationship with the Falleen Federation. I have absolute confidence that by working together we will both be stronger and more prosperous than we would be alone."

Lord Tigris Ninx, Regent of the Crown and Chairman of the Falleen Federal Reserve, issued the following statement from The Reserve Bank Building on Falleen: "I wish to firmly extend my hand in friendship to the people of the Tresario Kingdom. Since the time of the Sons and Daughters of Freedom, they and we in the Federation have worked toward freedom from tyranny. Our ability to now share in common the experience needed to move ever more progressively in that direction is heartening. I look forward to supporting Viceroy Domic, the Kingdom, and all those who continue to believe a revived Galactic Republic is our destiny."

Lord Landion Domic, newly appointed Viceroy and Sovereign Governor, issued the following statement shortly before departing to the territories of the Tresario Star Kingdom: "I would like to thank the citizens of Tresario Star Kingdom for allowing me to serve them as their leader. The citizens of Tresario have much to be proud of and with their help and the help of our Falleen brothers we will usher in a new era - an era of growth and prosperity. While many challenges lie ahead, the people of Tresario will not know failure. We will succeed as one family where we put our efforts and, as one family together with our Falleen brothers, celebrate our successes."

Crown Sovereign Falnor Urthadar issued the following statement via secured holo-communications: "Today, the Tresario Star Kingdom and its Dominion Colonies, to provide a better voice for the people and create a strong, central government necessary to manage and serve the great subjects of the Star Kingdom, hereby give our thanks to the Falleen Federation for answering our call for assistance. The galaxy is a dark and troubling place, with freedom spread thin and liberties largely ignored.

"I will let this be known: I am not dead, nor am I giving up. I am taking us forward in the only way I know how - with strong support from a fellow ally of freedom. On behalf of the citizens of Tresario, I give my thanks and my support to King Aldaris and the Falleen Federation and I look forward to a bright future between us."

***